"Two New, One Major" Policy Speeds H2 Economy, Tightens Up Belts, Speeds Up Export Control Law, launches Mars Mission, Kicks-off National Pipeline Co. & Energy Reform, India Phases Out Chinese Apps
Intelligence and Insights on China's government actions, foreign policy, economy, and the capital market.
Today, we closely examine an intensive wave of Government ministries' policy declarations relating to China's H2 economic recovery, featuring major policies characterized under the new terminology " Two New, One Major". China tightens up belts, speeds up Export Control Law, launches Mars Mission, kicks-off National Pipeline Co. & Energy Reform. India Phases Out Chinese Apps, and more.
Government in Action:
Government's "Two New, One Major" ("两新一重")Leads China's H2 Economic Recovery.

"两新一重" ("Liang Xin, Yi Zhong"), a key phrase out of this year's Government Work Report on May 22, clearly frames the government economic direction for H2, 2020.

Two New (两新)refers to new infrastructure, and new urbanization development;

One Major (一重)refers to major transportation and water resources projects.

Ministry of Transportation:

Will plan and develop a series of major nationwide transporation projects, including Sichuan-Tibet Railway, Shenzhen-Zhongshan Bridge.

Shenzhen-Zhongshan Bridge (source)

Ministry of Industry and IT (MIIT): The plan is to empower 100 Chinese cities with"double Gigabit" networks-a mobile 5G Gigabit network, and a fiberoptic Gigabit network. Cities including Chongqing, have launch detailed 2020-2022 working plans to turn the city into a "double Gigabit" city. (read more)

Inner City Duty Free Shopping policies is under feasibility study and may soon be launched. Qualified retail and department stores will be able to apply for inner city duty free licenses.

Chinese overseas shopping will continue to be severely curtailed in H2, 2020. According to Morgan Stanley, the onshoring of Chinese consumption overseas may bring back retail revenue at around 1 trillion RMB ( $145 billion) annually.
What will lead the economic recovery in H2 in China?
It will continue to be led by infrastructure investments and Industrial production.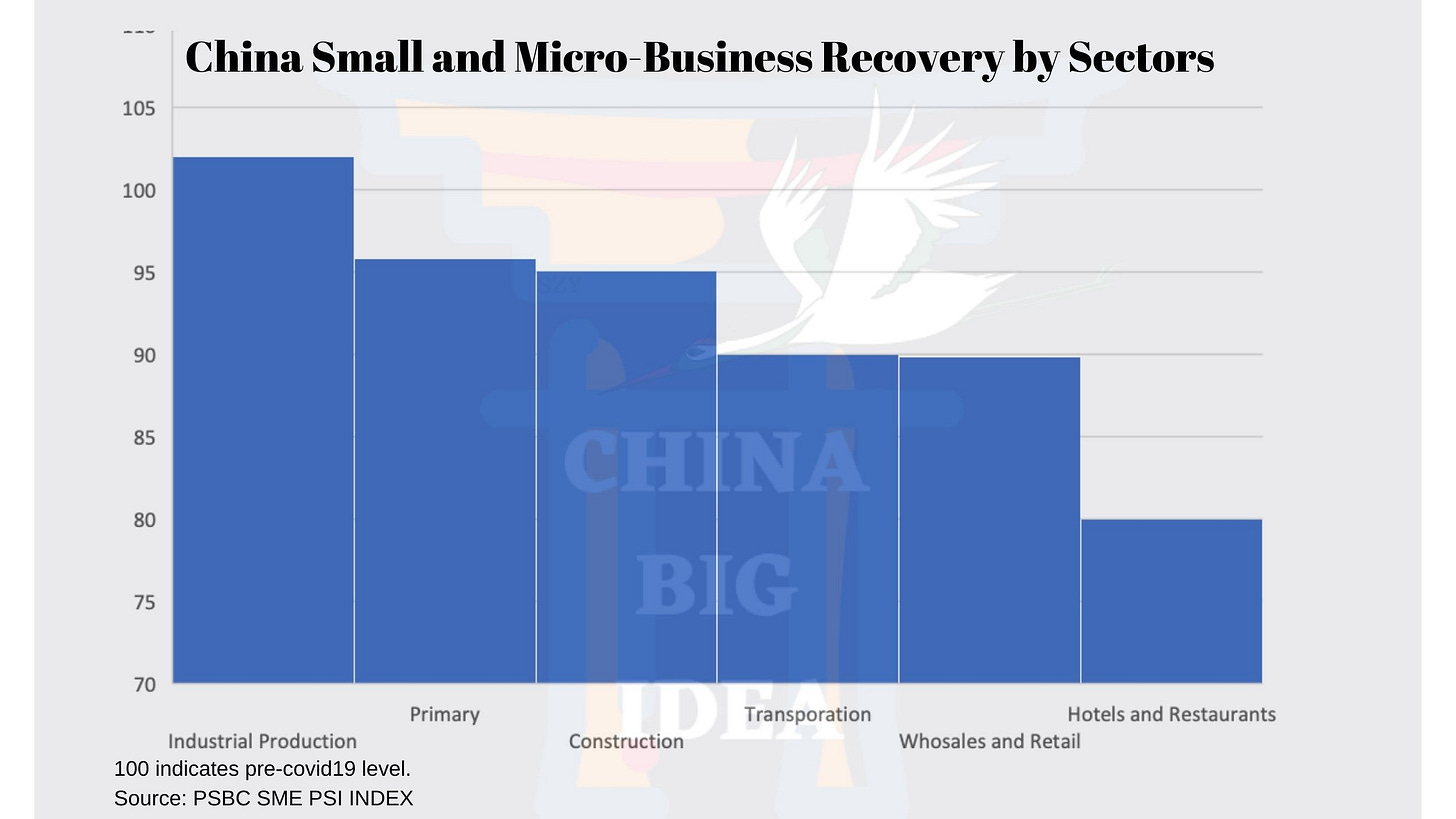 In looking at the recovery of China's Small and Micro-sized economies in June, which provided a more market-based indication, manufacturing output surpassed its pre-COVID19 level as of June.
Primary industry recovered to about 95% of its January level. Service industry continues to be the slowest to recover, currently at 80-90% of pre-crisis levels.
In looking at China's Q2 GDP release, while GDP has not returned to Jan 2020 level, real estate investments already returned to positive growth in Q2, registering 1.9% positive growth year over year. (read more)
China's industrial production continues to steadily recover through June 2020. Industrial side of the economic recovery will continue to exhibit strength over consumption recovery. (read more)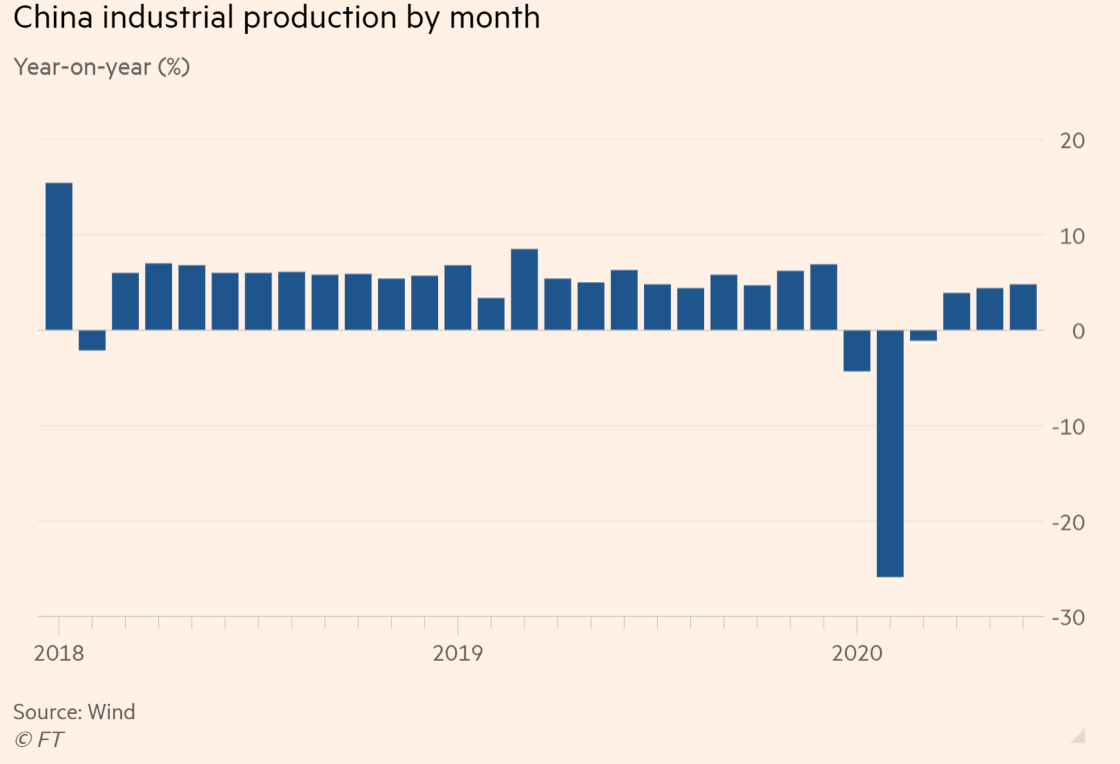 Overall, the supply side recovers more strongly than the demand side so far in the Chinese economy. The pattern should continue in H2 2020, with manufacturing and infrastructure investment leading the recovery, while consumer confidence and employment further normalizes.
2. China Tightens Up Belts at Central Bureaucracies But Keeps Bottom-up Fiscal Expenditure to Sustain Growth and Keep Employment.
Amid swift economic recovery from COVID-19, however, China has tightened restraints on public expenditure by governmental agencies, while keeping intact local expenditure vital for growth and job creation/maintenance at county level. The Chinese Ministry of Finance (counterpart to US Treasury Department) recently quotes this less-reported move in modest details. It demonstrates a higher degree of confidence to tackle issues with good bottom line. (read more)
The Chinese Ministry of Finance cites state media reports with highlights below:
中央部门带头过紧日子
"The central government must take the lead to live with an austere life."
对县级的转移支付规模只能增、不能减。 (read more)
"Scale of the fiscal transfer cascading to counties must increase without any cut."
Consequences:
· Chinese Treasury is determined to impose more stringent budgetary restraints on spending using fiscal expenditures.
· Gov't budget cuts of 50% against "non-mandatory, non-urgent expenses," except for those duly approved for anti-pandemic and disaster responses.
· Tightened fiscal discipline with calls for "no budget overruns."
· Stability-driven mindset: keep intact the expenditure at county level to prioritize for keeping economic growth and jobs.
---
The BIG Read
China Speeds Up Export Control Law with Deeper Policy & Institutional Alignment & Punitive Fines Against Violation. What Does it Entail?
China released on June 28, 2020 the "second-reading" version of the draft 2020 Export Control Law. (read more), along with the draft Data Security Law, which China Bid Idea alerted previously (read more). This validates the pre-existing momentum and newly-reinforced policy tools to potentially retaliate / reciprocate ongoing US extra-territorial enforcement against China. This has significant ramifications shaking up the entire supply chain for any sensitive commodities caught between conflicting US China sanctions in the months to come.
This is against the backdrop of intensifying legislations and sanctions that treats China as the "near rival" under the "whole of government" approach led by US, China also paces up her legislation and administration of its own export control regime.
Unsurprisingly, the "safety and controllability" remains the underlying tone for other "companion" legislation such as the National Security Law and Cyber Security Law. Despite vast ideological difference, the architecture of the Chinese counterparts to US CFIUS and export control laws as the essential components echo and emulate with U.S. "whole-of-government strategy," with the Chinese-socialist-style, all-nation approach underlying China's comprehensive yet evolving security surveillance and control regime. (See earlier analysis here).
· Analysis
What's salient from the US regime and prior version of the Chinese draft Export Control Law demonstrates China's growing confidence and policy choice for greater transparency, foreign investment protection and attraction and carefully paced "structural reform" in light of critics by trading partners underlying the Phase-1 US-China Trade Agreement, such as the following:
(a) Greater Enforcement and Individual-level Liability. The new Export Control empowers the Chinese Ministry of Commerce (MOFCOM) with on-site verification and various investigatory powers, along with fines up to 10 times of the "illegal gains" from alleged "unauthorized" exports of controlled items, either domestically or overseas. The "covered persons" under the new Export Control Law's jurisdiction extends from "citizens, corporations and other organizations" to "individuals and organizations." Such penalties may extend "aiding and abetting" liabilities against those "providing services" to alleged wrongdoers. Please note this broadly encompasses from those involved in e-commerce services to financing dealers and brokers, as well as the logistics providers, irrespective of contractual agreements otherwise agreed by the parties.
(b) Greater Instructional/Policy Alignment Prepared to Swiftly "Reciprocate" foreign Sanctions: It provides better clarity within the Chinese bureaucracy to sort out turfs and commands local authorities to escalate for vetting the controllability of any controversial item to centralize the licensing process and mitigate local protectionism using export control regime discriminatorily against foreign-invested enterprises.
(c) More Sanction and Entities Lists to Come. It will unify and consolidate the currently fragmented Chinese counterparts of US EAR (Export Administration Regulation). It will also eliminate policy considerations non-essential to "national security" and foreign policy" justifying sanction lists, such as "industrial competitiveness."
(d) Reinforced Embargo Honoring China's Treaty Obligations. It reiterates China's continuous policy for comprehensive embargos already in places to implement resolution reached by the United Nations Security Council, such as those against North Korea, and those against nuclear/bio/chemical-weapon proliferations.
· Outlook
Listed above are key highlights of the latest Chinese developments on export control and public procurement reforms. The new Export Control Law validates the pre-existing momentum and newly-reinforced policy tools to potentially retaliate / reciprocate ongoing US extra-territorial enforcement against China.
This coincidently responds what US Attorney General William Barr warned on its "China Initiative" that US will further intensify pressing major European-based MNCs as "market alternative" to Chinese national champions like Huawei to comply with US foreign and national security policy priorities and enforcements with "unity."(read more)
Given the uncertainty casted by these increasing conflicting regimes over international businesses, we will be delighted to provide fuller analysis as the Export Control Law evolves and vigorously enforced as "reciprocity" to US-driven sanctions to safety its technology leadership and foreign policy interests.
---
Chinese Tech
China Launches Mars Mission. (read more)
On July 23, 2020, China successfully launched its first March mission, Tianwen-1 (in English, "question to heaven – 1"), which if successful throughout the expedition, will reach and land on Mars in February 2021. The scientific objectives and instrumentation of China's first Mars mission, according to Nature publication by the chief scientist weeks before the launch "aims to complete orbiting, landing and roving in one mission." Its scientific objective includes "investigate the surface soil characteristics and water-ice distribution." Its name – question to heaven, is taken from the name of a poem by Qu Yuan (about 340–278 BC), one of the greatest poets in ancient China.
The Tianwen-1 probe, has 5 tons in terms of mass (including fuel) as a composite of an orbiter and a lander/rover in one piece, which is unprecedent from any human planetary missions. If successful, it would signify a major technical breakthrough of engineering of mankind. It's candidate landing site is called Utopia Planitia. (read more)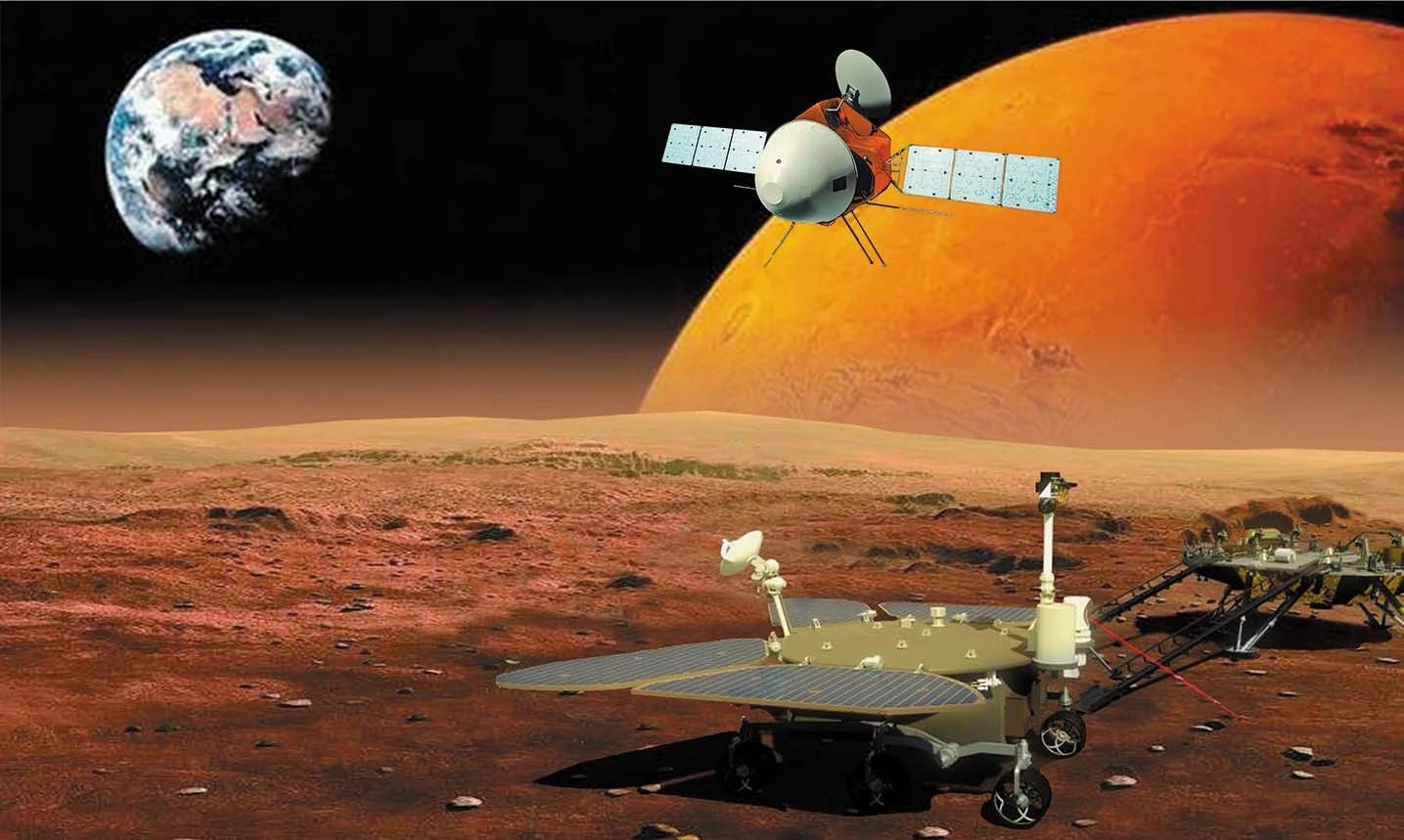 India Expedites Phasing-out of Social Media Apps and Content/Data Services of Chinese Origin
On June 29th, Indian government banned 59 mobile apps, including TikTok, Kwai, WeChat, UC Brower, claiming them as "prejudicial to sovereignty and integrity of India, defence of India, security of state and public order," according to official announcement (read more). Domestically, Chinese frenzy for investment opportunities in India is cooling down, with Chinese investors confronted with a risk/return choice of either deepening investment or stopping loss (read more).
The Indian moratorium on Chinese apps has its geo-political contexts (read more).
However, the prudence of such trade-distorting measure generates greater ramifications beyond Sino-India relationship to projected FDI into India going forward. This is because a significant number of "Chinese apps" are no longer "ethically Chinese." Rather, these "Chinese apps" are actually collaborative products and services with Chinese appearance (and country of origin under WTO rules) by leading international companies with significant overseas investors, and supported by a global supply chain from cloud services, online advertisement to financial services.
---
Business
China Pushes Energy Reform in Pipeline Deals
After years of negotiations concerning ownership and management of China's RMB400 billion ($57.14billion) oil & gas pipelines, on July 23, PetroChina (中国石油天然气有限公司) and Sinopec (中国石油化工股份有限公司) separately announced in tandem their respective plans to sell their oil and gas pipelines and other related assets to PipeChina (国家石油天然气管网集团有限公司), the newly-formed state-owned China Oil & Gas Pipeline Network Corp, whose registered capital increases in less than three years from 20 billion yuan ($2.86billion) to 500 billion yuan ($71.4billion) (read more).
As the world's third-largest importer of natural gas, China is moving to wean its economy off coal and boost use of cleaner natural gas. China's structural reforms shifting from a labor- and energy-intensive growth model to become capital and technology intensive, leading to permanently and structurally reduce coal consumption in the future, according to World Bank assessment on July 2, 2020.
PetroChina and Sinopec As Primary Shareholders of PipeChina
Through in-kind (non-cash) capital contribution by PetroChina to the newly formed PipeChina, PetroChina will transfer certain oil and natural gas pipelines, certain designated gas storage sites, oil storage facilities, and LNG terminals, along with equity interests in certain investee companies to PipeChina. Thereafter, PetroChina will enjoy 29.9% equity interest in PipeChina and its largest shareholder. Separately, Sinopec will contribute equity interests in the form of its natural gas pipeline and crude oil pipeline businiess to PipeChina with value ofr 47.113 billion yuan ($6.73billion), as subscription for the 47.113 billion yuan capital increase in PipeChina,.
Construction Status of China's Natural Gas Pipelines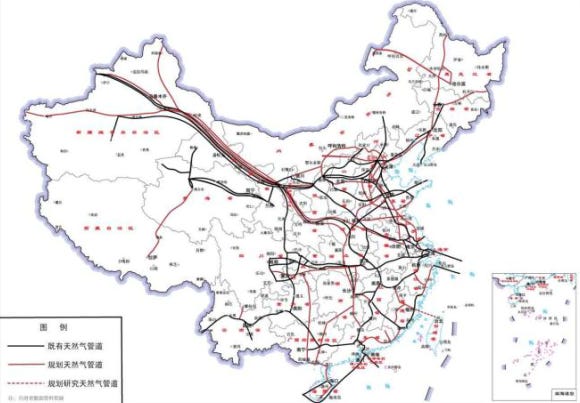 Source: Haitong Securities (February 2020)
HK-listed Kunlun Energy Pending Integration by PipeChina
China will cause the transfer from the three major oil & gas giants with pipeline related infrastructure assets into this single national pipeline company. The current, announced deals are expected to be completed by September 30, 2020. Notably, however, Kunlun Energy (00135.HK), the key subsidiary and major platform for retailing natural gas distribution under PetroChina and a HK-listed company, has yet participated in this restructuring. Because the pipeline assets constitute material assets of Kunlun Energy, participation by Kunlun Energy will trigger material asset restructuring. Such material asset restructuring will command requisite level of shareholder approvals by stakeholders including both private and foreign investors, with respect to important issues such as asset valuation and eventual deal structure to effectuate the integration by PipeChina with respect to the pipelines under Kunlun Energy.
$228.58 Billion Investment Over Value Chain During 2018-2025
According to Haitong Securities, the density of natural gas pipeline in China is only 35% of those in U.S. The estimated total investment trickling down from natural gas pipeline constructions during 2018-2025 is expected to exceed 1.6 trillion yuan ($228.58billion) over the value chain, from air liquidation, industrial automation, IoT, energy storage, solar power systems, to industrial valves (read more).
Unicorn in Spotlight
Today's issue is dedicated to Youxia Motors (CN: 游侠汽车, or traveling knight) – an electric vehicle designing and manufacturing enterprise, or not any more.
Valuation: $5B
Total Funding: $2.2B (as of December 2019)
Select Investors: Qianhai Wuton Mergers and Acquisition Funds, China Environmental Protection Industry, Gezhi Asset Management
Company Story:
Founded in 2014 by its former chairman Xiuyuan Huang and headquartered in Shanghai, Youxia Automobile Group has a 4.2 billion RMB ($6billion) capitalization within the automobile industrial cluster in Shanghai ("Youxia Auto"). Youxia Auto claims as an integrated smart electric vehicle (EV) manufacturer engaging in the full EV value chain, from NEV (new EV) R&D, design, production, distribution, sales to services. According to Youxia, it had released China's first integral product of pure electric vehicle (YOUXIA X), which attracted criticism as copycats of Tesla in 2015 when initially released (read more).
Youxia Auto is regarded as the "king of car-making on PPT (only)," according to industrial reports: read more). In December 2015, an executive team reshuffle replaced Huang with a new chairman, Jun Wei. Youxia's factory started the construction of an automated production line design in October 2017, and announced kick-off of its manufacturing based for electric vehicle parts in 2018. Yet as of the end of 2019, the five-year-old company hasn't made any deliveries, though it set a goal to sell 30,000 units by 2020. According to industrial reports, Youxia Auto's current "super factory" in Huzhou, an industrial city near Shanghai has been suspended, with the local government financing vehicle (LGFV) taking over the assets and likely products under construction without further details to the public. (read more)
It is worth noticing that Youxia Auto was listed in 2018 as a "Unicorn" in both English (CB Insights: read more) and Chinese media sources (Hurun Greater China Unicorn Index 2018: read more). After the suspension of its factory in Huzhou, Youxia Mobile had faded from the public, with the last update from its official website in August and its last Weibo post in November, 2019 (read more).
Youxia Auto is not alone in such situation as of July 2020. Due to multiple factors such as qualifications, capital, technology and experience, most of NEV brands "homegrown" are gone. Seeing the vicissitude faced by Youxia Auto, other leading mobile brands such as NIO, WM Motor and Xpeng Motors, are spending their winters carefully.