Discover more from China BIG Idea
A Global Leading Scholar/Senior Executive on the Economy, Technology, Capital, and Foreign policy on China, designed for Global Stakeholders.
Over 2,000 subscribers
Recovery, Reform, Future : a Special Weekend Edition of Weekly Highlights
Intelligence and Insights on China's government actions, foreign policy, economy and the capital market
Letter from the Editor
Whether a policy thinker and or a corporate executive, you probably have grasped the importance of what we are covering at China Big Ideas. 
The story of China in the years to come shall inevitably shape our future world.
That's why we bring to you the paywall-free Friday edition of China Big Idea with the essential news and analysis of the week.
It has been a remarkable week first and foremost watching the escalating tension between the US and China. Never before has a US Presidential election debate so overtly concerned itself with China. Across the Pacific, Chinese President pronounced a warning in his Friday speech commemorating the 70th anniversary of the Korean War, signaling that China is standing by for the worst scenario.
What to make of this kaleidoscope of flashing news?
There are two raucous narratives triumphing over the media. 
One sensationalizes the determinism of the US-China conflicts and often finds shielding behind meta-historical theses, among which the most cited are the Thucydides Trap and the Clash of Civilizations. It relies on the teleological reading of history, and by design, orients opinions towards the anarchical results it sets out to promote.
The second approaches the accounts of events through oversimplified dichotomy, unfairly magnifying the hegemon's state of decline or the challenger's state of rise. The narrative sounds the marching beat for exacerbating hostility.
Alternatively, Kindleberger Trap thesis offers clarity and sobriety for the interpreters of current events. 
The concept draws inspiration from the prominent economic historian Charles Kindleberger's interpretation of the 1930s era, when mortal nations were lost in a state of nature, dominated by social and political disorders.
---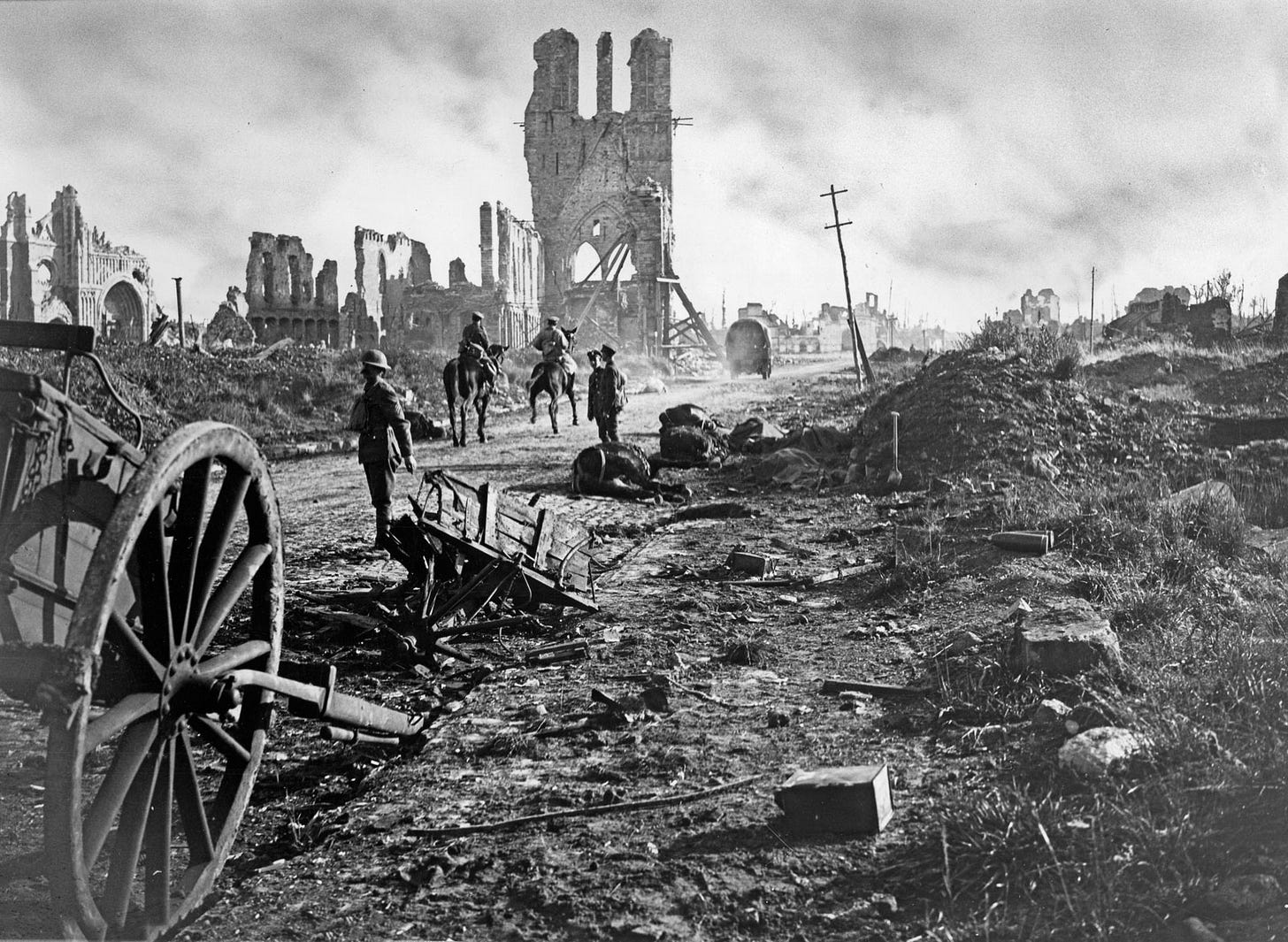 (…) 1929 depression was so wide, so deep and so long because the international economic system was rendered unstable by British inability and United States unwillingness to assume responsibility (…)
— Charles Kindleberger, The World in Depression, 1929-39
---
The thesis supports the idea that the global chaos of the 1930s ensues from the fact the newly-minted leading power was unwilling or unable to assume the provisions of global public goods.
The framework allows for a more interesting approach to understanding the role of China and the US in the upcoming years. It is a thesis we will have to constantly refer to in the turbulent time to come.
This week saw China step up in the global combat for recovery, on one hand through its own spectacular recovery, on the other hand by assuming the provision of global health reliefs.
Meanwhile, China is caught in the process of modulating/re-modulating its own economy whose umbrella term Socialism with Chinese characteristics awaits still definitional clarity. More urgently so, with the imminent birth of the 14th Five-Year Plan, now China is changing course of development, while the world awaits catalyst for growth.
What is increasingly clear is that, in its unfettered support and drive for science and technological innovations, there lies the future's hope.
I'd like to thank all our global team of contributors and editors. Please subscribe and join us for the broader and deeper insights and intelligence we bring you daily. Look forward to seeing you.
---
I.             Recovery
1. China's Economy Grew by 4.9% in Q3 2020
The Chinese economy grew by 4.9% YoY in Q3, driven largely by growth in industrial output at 6.9% in September. That puts industrial output at its highest level this year – a remarkable sign of China's continuing recovery from COVID-19.
Growth in construction was also strong at 8.1% in Q3, bolstered by strong government credit support and a buoyant property market.
In addition to GDP, all three of China's "economic horses" (三驾马车)- consumption, investment, trade, as well as real household income all saw positive growth year to date for the first time in 2020.
For the 2020's decade, China is likely to place its annual economic growth expectations between 5%-6%. Chinese economy is now recovering near the low bar of its comfortable range.
What's Different in this Wave of Chinese Economic Recovery?
CPI for September grew in the 1% range, the first time in 19 months. Core inflation excluding food and energy grew at 0.5%. Usually, as the economy recovers, growth and inflation should move in tandem. What we have seen in China in 2020 is the opposite. We see that growth rate has been improving, while CPI has been falling.
Low core CPI tells that the economic recovery is still soft. Much of the GDP recovery this year has been led by infrastructure expansion, fixed asset investment, and real estate investment, as we explain below.
Despite GDP's speedy recovery, consumer demand still remains soft, as evidenced by the lagging economic recovery in consumption and a still tame core CPI. China's economic fragility for the short term remains on the demand side. China needs to continue to stimulate demand, particularly consumer demand. External demand will be highly uncertain, as some European economies may possibly be hit with a second wave of COVID-19.
GDP
China's GDP for Q3 went up by 4.9% YoY. For the first three quarters, China's GDP growth YoY reached 0.7% and shifted from negative to positive. 
YoY GDP Growth by Quarter

Breakdown by Industries
·       Agriculture 
In the first three quarters, value added in crop farming grew by 3.8% YoY.
Total output of summer grain and early rice showed a YoY growth of 2.24 million tons. Another bumper harvest is expected for autumn grain, according to the National Bureau of Statistics.
In the first three quarters, poultry production grew by 6.5%. China saw declines in outputs of beef (-1.7%), mutton (-1.8%) and pork (-10.8%).
Pig farming gradually recovered, contributing to the drop in pork prices in September.
·       Industrial Production
In the first three quarters, value added in industrial enterprises above size (规模以上工业企业:industrial enterprise with an annual revenue from principle business over US$2.98 million or 20 million RMB) grew by 1.2% YoY, registering the 6th straight month of recovery since March.
YoY Growth of Industrial Enterprise Value Added above Designated Size by Month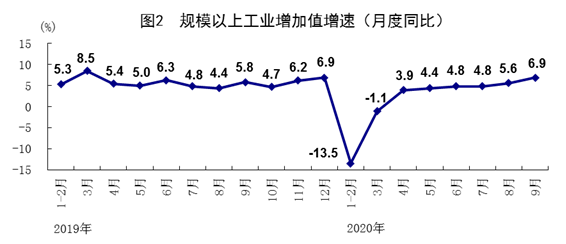 ·       Services Industry
In the third quarter, the total value added created by the services industry grew 4.3%, up by 2.4% compared to Q2.
Technology services (+15.9%) and financial services (+7.0%) led the growth.
New Economy, New Infrastructure, and New Consumption are key drivers of the overall economy. 
·       In September, the production of urban rail transit vehicles increased by more than 50% YoY.
·       Output of smart watches grew by more than 70%.
·       Output of new energy vehicles grew by more than 50%.
·       Online retail sales of physical goods grew 15.3% YoY in the first three quarters and accounted for 24.3% of total retail sales of consumer goods. 
Consumption
·       In Q3, total retail sales of consumer goods grew by 0.9%, the first positive quarterly growth in 2020.
·       Automobile, catering, and movie industries contributed to consumption boosts. (read more in Chinese)
Total Retail Sales of Consumer Goods Grew by 3.3% YoY in September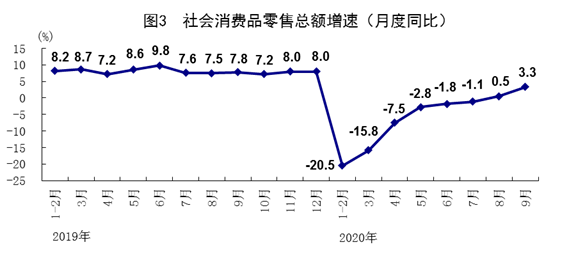 Inflation
CPI in September registered 1.7%. A 1% range CPI has not been seen for 19 months. September saw price drops mainly in housing (-0.3%), transportation and communication (-3.5%), and pork prices.
YoY Growth of Consumer Price by Month Declined in September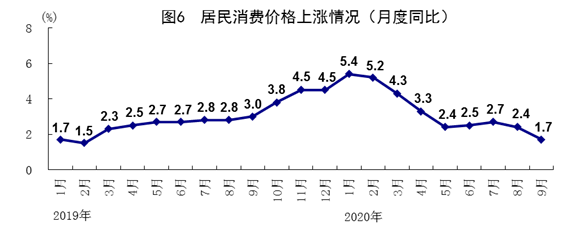 Investment
·       In the first three quarters, fixed asset investments (excluding rural households) grew 0.8% YoY and shifted from negative to positive for the first time in 2020.
·        New infrastructure, fresh urbanization initiatives, and major projects have driven this wave of economic recovery. (read more in Chinese)
Annual Growth of Fixed Asset Investments (excluding rural households) Turned Positive For the First Time in 2020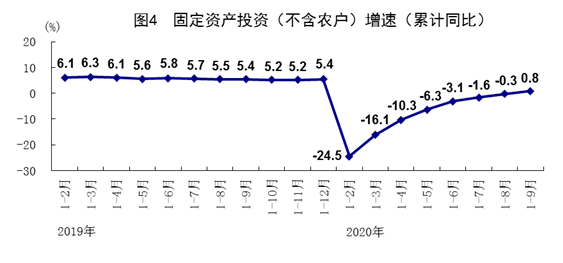 Trade
·       In the first three quarters, the total value of trade in goods went up by 0.7% YoY and shifted from negative to positive for the first time in 2020.
·       Total value of exports went up by 8.7% and total value of imports dropped by 11.6%.
Employment
·       In September, the surveyed urban unemployment rate was 5.4%, down 0.2% from that of August.
·       The real residential income grew 0.6% and shifted from negative to positive, again, for the first time in 2020. Still, real disposable income of urban households shrank by 0.3%.
·       Q3 showed a decline in income disparity between urban and rural per capita incomes.
Disposable Spending Recovery Continues to Lag
While retail sales recorded their best performance this year, China's leisure spending remains a drag on growth.
The hotel and restaurants industries, in particular, show signs of restrained growth: output in the sector is still 5.1% down on the year.
2. From 5G to COVID-19 Vaccine: China at the Epicenter of Talks in Brazil
Hours after Brazil's health minister, Eduardo Pazuello, announced a deal to buy 46 million doses of Chinese CoronaVac, Brazilian President Jair Bolsonaro told journalists he had cancelled the purchase. 
Vaccine Debate
Bolsonaro, whose government has strained ties with China, has derided it as the vaccine "from that other country", pushing instead to acquire another vaccine being developed by Oxford University in Britain.
In the meantime, Sao Paulo Governor Joao Doria, a top Bolsonaro opponent, responded to the President by asking him not to take it out on the health minister and to ensure greater comprehension about the medication. Earlier this week, the Sao Paulo government said that the phase III trial for CoronaVac had shown the vaccine was the safest available thus-far, though its efficacy still needs to be proven.
President Bolsonaro took the debate to social media and wrote on his Facebook and Twitter pages that the Brazilian people WON'T BE ANYONE'S GUINEA PIG," adding that billions can't be spent on medication that is still being tested.
Significance
Brazil's President often referred to CoronaVax as "Joao Doria's Chinese vaccine" which raises concerns as to whether the debate is solely centered on the vaccine itself or mainly fueled by disagreements on a personal level. 
II.           
Reform
2. Publicly Offered Infrastructure REITs Rejuvenate the the Chinese Economy
China is using the introduction of infrastructure REITs as a mechanism to rejuvenate the economy, particularly its new urbanization plans and the digital economy.
NDRC announced on 3 August that it had recently issued the "Notice Concerning Effectively Performing Infrastructure REIT Trial Project Application Work" (关于做好基础设施领域不动产投资信托基金(REITs)试点项目申报工作的通知).
On October 16, the Beijing 2020 Infrastructure REITs Conference was held to focus on legal breakthroughs required for the launch of Infrastructure REITs. Meanwhile, Shenzhen Stock Exchange has received more than 20 pilot projects of infrastructure REITs.
Details of the Infrastructure REITs Trial
The guidelines for domestic infrastructure REITs makes clear, the requirements for the trusts to allocate over 80% of their total assets to infrastructure-based securities. They must also pay out over 90% of core earnings to investors annually.

The Infrastructure REITs trial will exclude traditional, commercial and residential real estate projects-including hotels, commercial buildings, office building and apartments- according to the NDRC.

[The guidelines] makes it clear that China will use infrastructure REITs trial projects to finance developments critical for the national strategic priorities, including those associated with regional development plans in the Beijing-Tianjin-Hebei area, Xiong'an New Area in Hebei province, the Yangtze River Delta, the Greater Bay Area, and the Hainan Free Trade Port. 

Key areas covered by the infrastructure REIT trial will include warehouse logistics, railway lines, airports, ports, urban sanitation and recycling, solid waste processing and municipal utilities. 

The trials will also encompass "New Infrastructure", including data centers, artificial intelligence centers, 5G projects, telecommunications towers, Internet of Things (IoT), Industrial IoT, broadband internet, smart transit, smart energy and smart city projects. (read more)
What's Still Missing in the Structure?
·       The Guideline currently only provides a framework for investments, ownership structure and a path to listing.
·       The Guideline has not specified the tax treatment of the REITs, property ownership transfers, and the ownership structure applicable to SOE assets.
Fundamental Differences from International REIT Practice
·       The type of underlying assets, with China's REIT trials confined to infrastructure, and the international REIT market focusing more on commercial property initially before subsequently expanding to infrastructure assets;

·       China's REIT trials will make use of a "publicly offered fund + ABS" structure, while the international REIT market primarily makes use of a company model or single-level contract structure. (Zhou Yisheng, 周以升)
State of Chinese REITs Market
China has only developed a quasi-REITs market thus far. China previously had only rules for residential and commercial REITs.
·       China released rules for residential and commercial REITs in 2002.
·       China launched the first privately offered REIT in 2015-Shenzhen-based Penghua Fund Management.
·       China's REIT market had 123.7 billion RMB (US$17.8 billion) of total assets as of December 2019.
2. China's Three-Year Action Plan for SOE Reform (2020-22)
A three-year action plan for SOE reform (2020-22) was approved by the Central Committee for Deepening Overall Reform earlier.
The nation's top economic committee said the goal is to restructure the state-owned economy to make it more competitive, controllable and influential, as well as more innovative and better able to withstand risks.
SOEs are important material and political foundations for socialism with Chinese characteristics.

During the process of coping with the novel coronavirus epidemic, SOEs have played an important role in ensuring emergency supplies, providing medical aid, resuming work and production, and stabilizing industrial and supply chains.
Eight Focus Areas of SOE Reform
Peng Huagang, Secretary General of the State-Owned Assets Supervision and Administration Commission (SASAC) - outlined the primary focus areas in 2020.
·       A modern enterprise system with Chinese characteristics will be established and improved, while adhering to the leadership of the Communist Party of China.
·       A board of directors will be formed as needed, with the rights and responsibilities. Corporate governance will also include the Communist Party committees, to improve the functions and powers of the board.
·       A market-based executive management mechanism will be established. Contract-based management of executive members will be created. SOEs will be encouraged to combine medium- and long-term incentive policies to increase their vitality and efficiency.
·       The reform of mixed-ownership at different levels and categories will be deepened with prudence. Mixed-ownership companies will give full play to the positive role of the shareholders of non-SOEs.
·       The government will promote strategic restructuring in order for SOEs to strengthen their core businesses.
·       The supervision system of state-owned assets will be improved, with a focus on the management of capital.
·       SOEs will shoulder tasks of regional reforms and demonstrative actions on reforms of technology enterprises, to give full play to their leading roles.
·       The Party's overall leadership vis-a-vis SOEs will be strengthened.
SOE's Mixed-Ownership Reforms
The Action Plan seeks to accelerate the mixed-ownership reform of SOEs and proposes targets in stages.
Zhao Chenxin, Deputy Secretary General of the National Development and Reform Commission, said at a policy briefing on May 24 that this year the Commission will advance pilot reform of mixed ownership in 210 SOEs and conduct research to formulate a guideline on mixed-ownership reform. (read more)
By June 23, there were 460 mixed-ownership reform activities concerning SOEs listed in the A-share market, involving 227.79 billion RMB ($32.22 billion) in total.
SOEs in Planned Reorganizations
Guidelines will be issued for restructuring of the state-owned economy.
A pilot program has already seen five major state-owned power enterprises—China Huaneng Group, China Datang Corp., China Huadian Corp., State Power Investment Corp. and China Energy Investment Corp.—reach an agreement on reorganizing 48 thermal power plants in five areas by June 30. After that, all the thermal power plants in each of the five areas will be operated by a single SOE from the five.
Li of NDRC commented that reorganization may be carried out in four major forms.
In industries that have high competition but low concentration of resources and surplus capacity, such as natural resources, iron and steel, automobile and equipment manufacturing, enterprises will be reorganized to reduce their number but expand their size.

Enterprises from the upstream and downstream of an industrial chain may be reorganized. For instance, thermal power enterprises and steel enterprises, both with serious excess capacity, can be reorganized to reduce production capacity.

Resources within the same enterprises, especially within large-scale corporate groups, can be restructured to relocate assets and organizations.

Reorganization can also be carried out between central and local SOEs and between Chinese SOEs and foreign corporations. The key sectors for such reorganization include equipment manufacturing, the chemical industry, marine engineering equipment and overseas oil and gas resources.

"In the future, state-owned capital will be increasingly invested in important industries, key sectors and strategic emerging industries. Strategic and specialized reorganization of SOEs will become a top priority of the 14th Five-Year Plan (2021-25).
III.        
Future
1. Xi Jinping Calls to Speed Up Quantum Technology Development
On Friday 16, The Politburo of the CPC Central Committee held the 24th Collective Study on quantum technology research and applications.
President Xi Jinping presided over the meeting and emphasized the scientific significance and strategic value of developing quantum technology in order to promote high-quality development and ensure national security. 
Xi Jinping pointed out that in recent years, the development of quantum technology has made rapid progress and has become the frontier of a new round of technological revolution and industrial transformation.
On the whole, China already has the technological strength and innovative capabilities in the field of quantum technology, but at the same time, they must also recognize that the industry has many shortcomings and faces multiple challenges.  
Therefore, China must pursue independent innovation, make breakthroughs in core technologies, strive to achieve control in key areas, ensure security of the industrial value chain and supply chain, and enhance China's scientific and tech ability to respond to international risks and challenges.
总体上看,我国已经具备了在量子科技领域的科技实力和创新能力。同时,也要看到,我国量子科技发展存在不少短板,发展面临多重挑战。我们必须坚定不移走自主创新道路,坚定信心、埋头苦干,突破关键核心技术,努力在关键领域实现自主可控,保障产业链供应链安全,增强我国科技应对国际风险挑战的能力
Xi Jinping pointed out that the key to major inventions and disruptive technological innovations lies in talents:
·       It is necessary to speed up the cultivation and training of high-caliber talents, establish a suitable training plan, and create a systematic and high-level talent training platform for the development of quantum science and technology. 
·       It is necessary to delegate decision making power to top scientists based on trust, and give them full autonomy in financial and manpower management.
·       It is necessary to liberate the creative powers of scientific researchers from unreasonable funding management and talent evaluations, to create an ecosystem that is conducive to stimulating innovation of scientific and technological talents.
习近平指出,要培养造就高水平人才队伍,加快培养一批量子科技领域的高精尖人才,建立适应量子科技发展的专门培养计划,打造体系化、高层次量子科技人才培养平台。要建立以信任为前提的顶尖科学家负责制,给他们充分的人财物自主权和技术路线决定权,… 把科研人员创造性活动从不合理的经费管理、人才评价等体制中解放出来,营造有利于激发科技人才创新的生态系统. 
Xi Jinping also pointed out the importance of a policy support system and a favorable policy environment for promoting the development of quantum technology:
·       It is necessary to ensure sufficient capital investment in the field of quantum science and technology, and at the same time encourage local governments, enterprises, and society to increase investment. 
·       It is necessary to increase investment in scientific research institutions and universities in basic research on quantum science and technology, strengthen the overall construction of national strategic scientific and technological forces, and improve scientific research management and organizational mechanisms.
·       Party committees and governments at all levels should attach great importance to the development of scientific and technological innovations, optimize the allocation of scientific and technological resources, and take effective measures to ensure that major policy decisions made by the CPC Central Committee are effective. 
习近平指出,要健全政策支持体系。要加快营造推进量子科技发展的良好政策环境,形成更加有力的政策支持。要保证对量子科技领域的资金投入,同时带动地方、企业、社会加大投入力度。要加大对科研机构和高校对量子科技基础研究的投入,加强国家战略科技力量统筹建设,完善科研管理和组织机制。
习近平指出,各级党委和政府要高度重视科技创新发展…优化科技资源配置,采取得力措施保证党中央关于科技创新发展重大决策部署落地见效。
2. Global Data Solutions (GDS) Dual-lists in HK
On October 21, Global Data Solutions launched its IPO on the Hong Kong Stock Exchange and is expected to go public on November 2.
Global Data Solutions
·       In 2009, when China had no licensed internet data center service providers, GDS has strategically expanded its data center business in China. Now, GDS has become the largest independent third-party internet data center service provider in China, accounting for 21.9% of the non-carrier market revenue in 2019.
·       Since 2002, the company has partnered with Alibaba, Tencent, Baidu, Netease, Microsoft, ByteDance, J.D.com, Meituan, and Ping An Technology and other cloud service providers.
·       Cloud service providers, large internet corporations and financial institutions account for 71.8%, 17.0% and 6.1% of the contracted area of GDS respectively.
·       Alibaba and Tencent, the largest customers of GDS, contributed 55% of the total contracted area.
Financial Performance
·       The company, listed on the NASDAQ in 2016, had a market value of $12.89 billion on October 21. In the four years it has been trading on the NASDAQ, its shares have soared 719.4%.
·       Revenue increased 72.8%, 47.6% and 37.6% in 2018, 2019 and H1, 2020 respectively (figures).
China's IDC Market Potential with New Infrastructure Investment post COVID-19
Nearly half of the largest data centers are concentrated in the United States, while China accounts for about 10% of the global market share.
Government Drives Market Growth
The Ministry of Industry and Information Technology said in a 2020 work plan that it would step up efforts in encouraging the construction of a batch of industrial internet data centers across China as part of its broader push to accelerate an industrial upgrade.
The government will continue its goal of encouraging 400,000 enterprises to adopt cloud services and to use industrial internet platforms to do research and development, design, manufacturing, management, and other services.

Further, post-COVID-19 outbreak, the IDC market in the region is expected to register significant growth as more businesses seek to move online and thereby demand larger cloud storage space.

Since April 2020, Data Centers in the region have been classified as new infrastructure by the Chinese government to accelerate the industry's growth.

The government is set to spur the digital economy by enabling reducing power cost, more carbon quota, and lowering financing costs for the IDC operations. Major cities, including Beijing, Guangzhou, and Shanghai, are said to account for over two-thirds of the data center cabinet capacity in china, with utilization rate reaching as high as 80%.

As the IDC market in these areas continues to mature and become saturated, the authorities have started to restrict new IDC projects or impose heightened approval requirements for new IDC projects.

However, local government bodies in other cities such as central and western China have started to offer preferential taxes and other incentives to further attract foreign investments. Thereby, are leveraging the market growth by attracting the IDC investments in non-first-tier cities. (read more)
China's Dominant IDC Players
The China Internet Data Center Market is fragmented with prominent players, including Internet giants such as Alibaba Group Holding Ltd, China Telecommunications Corporation, and China Mobile International.
·       December 2019: China Mobile International announced that it had opened a new data center in the UK, marking its first facility in Europe. It serves as an internet data center (IDC) and the international network exchange hub between Asia and Europe, enabling connections within Europe, Africa, the Indian Ocean, and the Asia Pacific.
·       December 2019: Alibaba Group Holding Ltd announced that it brings together fintech and cloud computing offerings to a new unit called the Financial Enterprise Department. It aims at selling both cloud computing and fintech to financial institutions. The financial sector is one of three core areas of Alibaba Group, where it seeks growth leveraging its cloud infrastructures.